Message from Mr Maddox 1 November 2019
PROGRESS 8 SCORE CONFIRMED
At this time of year the Government populates its 'Compare School Performance' website and in recent years we have featured especially prominently in terms of Progress 8, the most important measure used by the authorities to judge schools' progress in the years up to the GCSE examinations. Our Progress 8 figure this year is significantly ahead of the excellent and leading figure achieved last year and the provisional figure just published is 0.8. This means that, on average and despite our intake at Year 7 being selective, our students achieve GCSE grades which are 80% of a grade ahead of those they might be expected to achieve. Our impressive, statistically significant figure is further evidence that our students' fabulous success at GCSE really is, at least in part, due to factors within the control of this particular School, such as teaching quality, academic support and pastoral care. Our GCSE students did brilliantly well this summer so it is pleasing to see their achievements coming through into the important published national figures.
Progress 8 is the Government's measure of how much progress students at this School made between the end of Key Stage 2 (i.e. the end of their Primary education) and the end of Key Stage 4 (i.e. their GCSE results), compared to pupils across England who got similar results at the end of Key Stage 2. Calculation of the measure is based on results in up to 8 qualifications, which include English, Maths, 3 English Baccalaureate qualifications including sciences, computer science, history, geography and languages, and 3 other additional approved qualifications.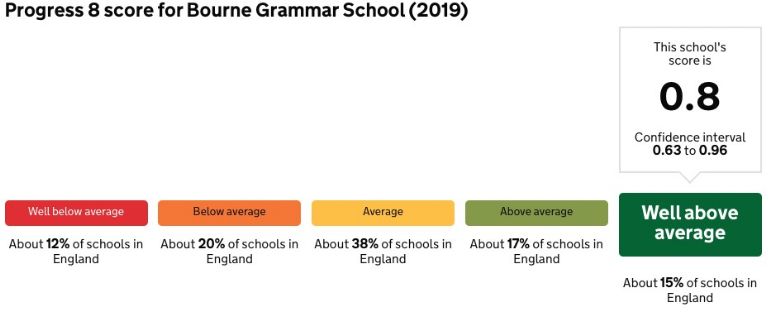 The Department for Education School Performance tables for our school can be found here.
GCSE Data August 2019
| | |
| --- | --- |
| No of students in cohort | 239 |
| Progress 8 Score | +0.79 |
| Attainment 8 Score | 6.9 |
| % of pupils entering the English Baccalaureate | 100% |
| Average EBacc APS score per pupil | 6.87 |
| % Achieving grade 5 or above in the English Baccalaureate | 76% |
| No of students obtaining 5 or more 9-4's including Grade 4 in English & Maths | 195 |
A Level Results August 2019
| | |
| --- | --- |
| A*-C grades | 81.6% |
| A*-E grades | 98.9% |
| Average Grade students obtained at KS5 using DfE Calculation | B- |
| Students who returned to Year 13 | 188 |
| Students who finish end of KS5 | 187 |
GCSE and A-Level Performance Table data can be viewed here.
2019 GCSE and A-Level results by subject will be available shortly